Shop local! Dine local! Bank local! This is not the first time I've made this announcement; however, my tone has never been more emphatic.

As a locally based and managed financial institution, Marine Bank has long advocated the importance of supporting our local businesses. Since 1997, we have been a dependable resource for our local business owners, community homeowners, and area non-profits. We operate under the belief that our communities are better places when we all thrive and prosper.

It's safe to say that, a few months ago, most of our locally owned businesses were benefitting from a booming economy and high consumer confidence. But the COVID pandemic changed all of that. Businesses were shuttered, employees were furloughed, and customers were told to stay at home. During that time, consumers increased their online ordering from national retailers. It was an obvious solution.

But now, as stay-at-home orders are being incrementally lifted and we can emerge from our home bunkers and shop and dine a bit more freely, it is important that we spend our money at locally owned businesses. A coordinated "Buy Local" re-opening campaign will enable us to optimize and accelerate our community's economic recovery.

Money spent at a local establishment helps keep that business open. That business then rehires workers. Those workers spend money in the community. And, the cycle continues.

After working closely with hundreds of business owners to complete their Paycheck Protection Program (PPP) loan applications, we became painfully aware of the devastating impact the shutdown was having on businesses and their employees. The PPP was a lifeline for many of our customers. Throughout the process, I was struck by the level of passion the owners exhibited, not only for saving their businesses but for ensuring that their employees were able to provide for their families.
"Thank you to Marine Bank for your team's assistance with my PPP application. You saved my company. More importantly you saved 18 families who depend on their paycheck to pay the rent and put food on the table. There are 18 families that are sleeping much better becase we partnered with Marine. I am a Marine customer for life!"
Brad Rawlins, Service by Premier
"We cannot thank Marine Bank enough for your assistance with our PPP application. In our company alone, you are saving 40 families. I am so overwhelmed with gratitude. Thank you!"
Angela Evans, Commuter Cars
During the PPP application period, many businesses found that the big banks were unresponsive to small business, leaving many business owners without funding as the first round of PPP funding was exhausted. As a result, community banks were able to step up and deliver for many business owners – proving a key benefit of banking local.

It wasn't easy. But nothing that's rewarding is easy. Witnessing our team shift the majority of our workforce's focus toward processing hundreds of PPP applications so that businesses could remain viable and employees could get paid will go down as a highlight of my 42-year banking career. I couldn't be prouder of their efforts. It's been especially heartwarming to have their efforts receive such overwhelming recognition.
"I applied for a PPP loan with my "Big Bank" and it went nowhere and then the funds ran out. When more funds became available, I applied through Marine Bank and I was approved with a check in hand in record time. Marine Bank got it done!"
Steven Schwartz, PD/GO Digital Marketing
"The PPP loan process made it clear that my small business was not a big deal to my big bank. As a result, my business is moving to Marine Bank where small business is a priority."
Deby Winter, Carpet & Tile Warehouse
The road to recovery is uncertain. We don't know what path it will take or how long it will take to get there. But we do know that it will certainly take us down Main Street past locally owned businesses. But please don't pass them by. Stop in and make an investment in our community's vibrant economic future.
Shop local! Dine local! Bank local!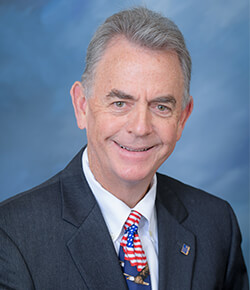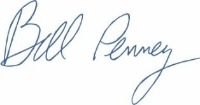 Bill Penney
President and CEO
Marine Bank