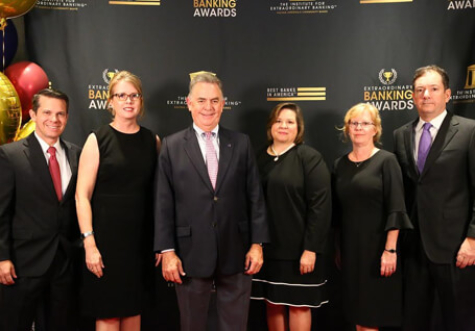 September 28, 2018

Marine Bank & Trust was recently named among the top extraordinary banks in the United States by The Institute for Extraordinary Banking.™ Marine Bank was recognized with the Institute's Banky™ Award for its commitment to strong community banking. This recognition is given to top community banks across the country to help people find the best banks n their communities.
The Extraordinary Banking™ Awards were hosted by The Institute for Extraordinary Banking™ on September 11, 2018 in Minneapolis, Minnesota. The focus of the program was to highlight the vital, yet sometimes overlooked, role that local community banks play in our economy. Without a thriving, competitive local banking industry, our small businesses and families sometimes become numbers in larger financial institutions. The Extraordinary Banking™ Awards recognize the best of what community banks offer to our communities and nation.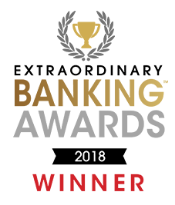 "In the past two years, Marine Bank has undergone significant changes such as adding more banking centers, serving new communities, updating our operating systems, enhancing our online banking, and adding mobile check deposit to our mobile banking app. Most importantly, we've recruited some of the best and most knowledgeable bankers in the area to join our team." said President & CEO Bill Penney. "Each and every change, decision or update has contributed toward an optimum banking experience for all Marine customers.  I am very proud to say that more than 99% of our customers who responded to our service survey said they would recommend Marine Bank to others."
"During our 21-year history, we've perfected the balance between offering the convenience and technology associated with the big banks without losing the personal service and local decision making of a community bank," continued Penney.  "We want to be a trusted resource that residents and businesses turn to when opportunity knocks.  When our community thrives, we all succeed."
Marine Bank provides financial resources to small businesses through commercial real estate loans, construction loans, commercial lines of credit, SBA and USDA loans. Since January of 2017, the Bank has financed commercial loans totaling nearly $30 million. Marine Bank is also a leading home mortgage lender and, since January 2017, has assisted 306 individuals or families in securing the home of their dreams.
In closing, Bill Penney added, "I would like to thank The Institute for Extraordinary Banking.™ for this occasion to stop and reflect on what we've accomplished and for the opportunity to be recognized on the national stage."
About the Banky Award
Awarded by the Institute for Extraordinary Banking, The Banky™ recognizes 20 banks for differentiating their brands in the following five categories:  BanksGiving™ (Philanthropy), Above-and-Beyond Customer Service, Thought Leadership, Thank God It's Monday® Internal Culture, and Money Smarts (Financial Literacy Education).