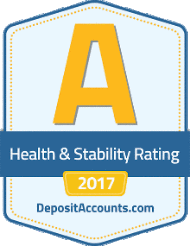 December 7, 2016

Vero Beach, Fla. - For its financial standing through the end of Q3 2016, Marine Bank & Trust has maintained its A+ health rating, the highest possible rating from DepositAccounts.com. In order to determine a comprehensive health rating, a number of factors, including capitalization, deposit growth, and loan to reserve ratios are evaluated.
"2016 was a big year for Marine Bank," said William Penney, president and chief executive officer. "We made a significant technology investment to improve service delivery and customer convenience, and expanded into Sebastian by purchasing an existing banking center. So, to be recognized for our solid operating performance during these momentous transitions speaks volumes about our team's dedication to excellence."
DepositAccounts.com is one of the largest consumer resource websites in the U.S. focused on depository banking products. Each fiscal quarter, DepositAccounts.com evaluates the financial health of every federally insured bank in the United States – totaling more than 6,900. For more information, please visit depositaccounts.com/banks/marine-bank-trust-company.html.