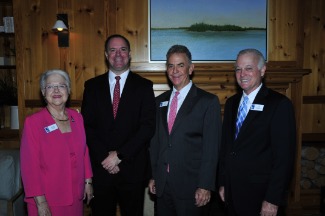 November 12, 2019
The residential lending team of Marine Bank hosted an informative breakfast seminar for local realtors at the Quail Valley Club on November 12th. The presentation, "2020 Economic Outlook: Are Recession Fears Overblown?" was delivered by Tom Essaye of The Sevens Report.
"Marine Bank wants to be a resource for our local realtors beyond providing stress-free and responsive mortgage lending services for their clients. We want to be their partners," said Bill Penney, president and CEO of Marine Bank. "By inviting them to a forum which provides insightful information they can use is beneficial for all of us. I'm proud of our team for organizing such a well-received event."
Marine Bank and its mortgage lending team have hosted several events such as this including "Europe in Crisis and the Effects on the USA" presented by international leadership management expert James Cooke in 2018.
About Tom Essaye
Thomas Essaye is a professional trader with more than 10 years of experience trading foreign and domestic equities, commodities, currencies and bonds. Tom created the Sevens Report to combat the information overload financial professionals and self-directed investors face daily. Tom is a frequent guest on national television and appears regularly on CNBC, Bloomberg TV, BNN, Marketwatch.com and Fox Business News.