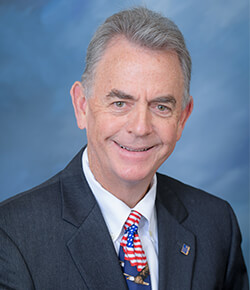 Marine Bank is proud to announce that its president and CEO Bill Penney has been named chairman-elect of the Florida Bankers Association (FBA), one of Florida's oldest trade associations. The announcement was made at the organization's 132nd annual meeting at the Breakers in Palm Beach. 
Since 1888, the FBA has advocated on behalf of Florida banks and promoted the banking industry in the state.  Today, the FBA boasts a membership of 200 financial institutions whose deposits make up 98% of the total deposits in Florida. 
Penney has been active with the FBA for more than 10 years.  In addition to being a current FBA board member, he is the former chairman of the Florida Bankers Educational Foundation (FBEF), a former member of the Government Relations Committee, and is a current board member of the Florida BankPac, a statewide, bi-partisan, non-profit political action committee.  In 2017, Penney was awarded the Florida Bankers Association's Chairman's Award in recognition of his continuous support of the association, his leadership on FBA committees, and his commitment to the success of the banking industry.
In his role as chairman-elect, Penney will set policy and oversee the general operation of the FBA to help maximize the ability of its bank members to compete, serve customers and positively contribute to the economic well-being of Florida.
"There is nothing like being in Washington, D.C. meeting with our elected officials and regulators with a group of 100 Florida bankers. It gets their attention," Penney said. "We can accomplish amazing things working together to address issues impacting our industry."
"Locally, I am witness to the critical role banks play in our community," continued Penney. "From helping people achieve the dream of homeownership to providing capital so small businesses can expand and add jobs, banks are there for our communities."
In addition to his service with the FBA, Penney is involved locally with the Indian River Chamber of Commerce, the Indian River Economic Development Council, and the Alzheimer & Parkinson Association of Indian River County.