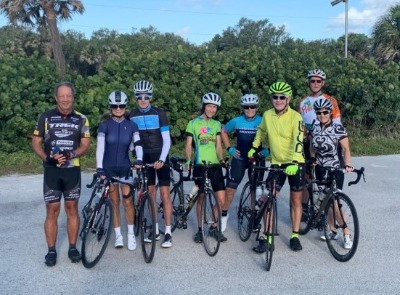 While most people dress up on their birthday and treat themselves to something nice, Marine Bank's Bill Penney celebrated his 65th birthday on May 22nd by putting on his aerodynamic biking suit and testing his physical endurance. 
To prove that age is only a number, Penney created the "65 Ride to Remember" a 65-mile bike trek to benefit the Alzheimer and Parkinson Association of Indian River County. He began training and asking friends, family, and neighbors to donate $65 to improve the quality of life for individuals and families who are affected by memory and movement disorders.
Penney, the Vice Chair of the Board of Directors for the organization set a fundraising goal of $6,500.  However, that was eventually raised to $10,000 and, as of May 26th, $11,755 had been donated. Donations are still being accepted at https://alzpark.org/ by clicking the green donate button. 
"What an amazing birthday!" said Penney, President and CEO of Marine Bank.  "I may be 65 but knowing that we can all make a difference or support those who are trying to - makes me feel like I'm 45. Thank you to everyone who joined me along the ride and for all the generous donors who supported my efforts beyond my wildest expectations."
 "We are thrilled that Bill Penney's '65 Ride To Remember' was such a success," said Peggy Cunningham, Executive Director of the Alzheimer & Parkinson Association. "Every dollar raised from his event will help support families struggling with memory and/or movement disorders in Indian River County."
Penney's had plenty of practice making moneymakers out of milestones. On his 50th birthday, Penney rollerbladed 50 miles and raised $6,500 for the United Way of Indian River County. At 55, he rollerbladed 55 miles and raised $10,500 for the Red Cross.  On his 60th, he was busy with another activity – walking his daughter down the aisle.