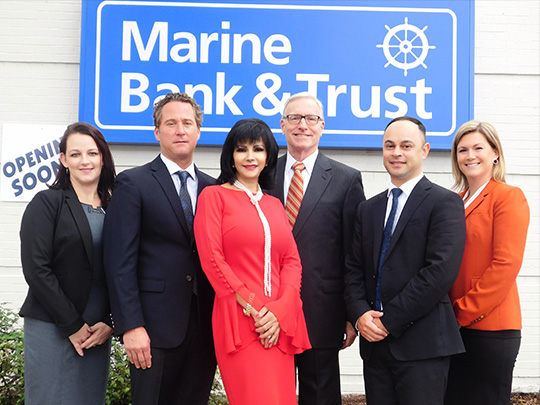 Jessica Bennett, Ryan Lees, Malak Hammad,
Bill Koehne, Charlie McCoach, and Dianna Stewart

Marine Bank and Trust has assembled the team that will soon be responsible for running the Bank's first full-service Brevard County location, scheduled to open in early 2018 at 3303 Suntree Boulevard in Melbourne.  The Bank currently operates a loan production office at 6525 3rd Street, Suite 209 in Rockledge.
Malak Hammad, who joined the bank in June of 2017 as vice president, will manage the Melbourne banking center.  Hammad is a career banker in the Brevard County market. She is active in the Melbourne non-profit world and is currently a board member with Space Coast Women in Defense, Be Kind Brevard, and the Children's Hunger Project.
Senior vice president and commercial lending manager Bill Koehne, who joined the Bank in May of 2017, is managing Marine Bank's team of commercial loan officers while raising awareness of the Bank's commercial lending capabilities in both Indian River and Brevard counties.
Charlie N. McCoach has joined the Melbourne team as assistant banking center manager. McCoach has more than 11 years of financial experience and will support all areas of the banking center to ensure a positive customer experience for the Bank's customers.
Ryan Lees, MBA, has been hired as a residential lender responsible for bringing Marine Bank's flexible underwriting and quick, local decision-making to homebuyers. 
Dianna Stewart and Jessica Bennett joined the Melbourne team   and will be responsible for all aspects of serving customers such as teller transactions, opening accounts, assisting with loan applications and addressing general customer service matters.
 "We are as excited about our new talent as we are about our expansion," said Bill Penney, president and CEO of Marine Bank. "We have attracted and secured the best talent in the area and we're excited about opening our new banking center and becoming part of the Brevard community.  Our team's experience, exceptional service and state-of-the-art technology will be a winning combination for Marine Bank and the businesses and consumers of Brevard County."