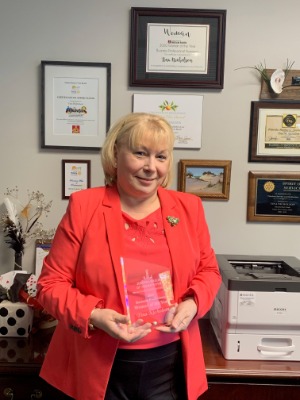 Marine Bank & Trust is proud to announce that Tina Nicholson, vice president and manager of its Vero Beach US Highway 1 banking center, was named the 2020 Business Professional Woman of the Year by the Junior League of Indian River. 
"Tina was nominated by her peers who witness on a daily basis her drive, passion and willingness to learn through failure," said Marine Bank president and CEO Bill Penney. "Tina feels it is our responsibility to serve the underprivileged and leads by example. She deeply enjoys her job because, as a banker, she helps clients achieve their American dream."
Tina has been a part of the State Housing Initiatives Partnership (SHIP) since its inception. She currently serves as Chair of the Local Housing Assistance Program Loan Review for Indian River County.  This program helps low- and moderate-income applicants get into homes of their own by helping with their down payments and closing costs. Since 1992, they have approved 1,301 loans for SHIP totaling more than $26 million. 
Along with the Sunrise Rotary Vero Beach and with the assistance of four surrounding Rotary Clubs, Tina helped to start and has chaired Oktoberfest for the last 10 years. Funds generated from the event's live auctions, silent auctions and ticket sales benefit the Rotary's International Polio Plus program which is focused on eradicating polio in third world countries.  Polio was effectively ended in the US by vaccines funded by the March of Dimes, an organization where Tina has volunteered her time and efforts for more than half her life.  
The Junior League of Indian River held their 8th annual Woman of the Year event on Wednesday, March 24th via Zoom Webinar.  In addition to Tina Nicholson, winners included: Angelia Perry of the Gifford Youth Achievement Center for the Civic/Non-Profit Professional Category, Dr. Nancy Baker for the Volunteer Category, Tatum Willmot for the Rising Star Category, and Dr. Nancy Baker was the Overall Woman of the Year winner.