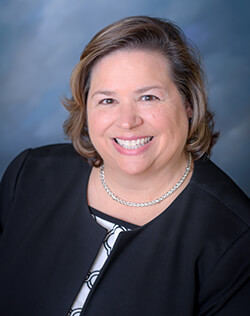 Marine Bank & Trust has announced that Sandi Creyaufmiller, the Bank's Vice President and Director of Human Resources has been elected to the Florida Bankers Health Consortium Inc. (FBHC) Board of Directors. In her role, Sandi will monitor the financials, assist with the organization's marketing efforts, and provide strategic guidance on the offerings of the FBHC.
"Sandi's professionalism, industry knowledge, and ability to assess and organize around priorities will be an asset to their board," said Marine Bank President and CEO Bill Penney.  "Sandi's open and straight-forward communication, humor and ability to think outside the box is very much appreciated by everyone on Team Marine."
Sandi was a certified Senior Professional in Human Resources® (SPHR®) by the Society for Human Resource Management (SHRM) from 2002 through 2014. In 2019, Sandi graduated from Leadership Indian River County.

About the Florida Bankers Health Consortium (FBHC)
Founded in 1962 as the Florida Bankers Insurance Trust (FBIT), the FHBC began as a not-for-profit serving the Florida Bankers Association (FBA). At that time, its primary role was to provide employee benefits and services to FBA members. Today, FBHC delivers high quality benefits programs, third-party administrative (TPA) services, and innovative technology that impart one-source administrative solutions to more than 60 Florida Banks. To learn more, please visit https://flbankhealth.com/.