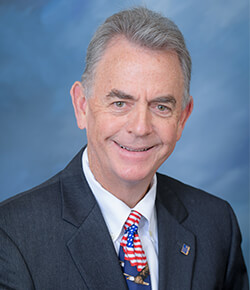 Vero Beach, Fla. – Marine Bancorp of Florida, Inc., the parent company of Marine Bank & Trust, has announced that in 2021, the company increased its growth, earnings, and profitability for the fourth consecutive year.
Highlights of Marine Bank's 2021 performance include the company reporting net income of $4.827 million as of December 31, 2021 compared to $2.967 million on December 31, 2020, an increase of 63%. The company also experienced year-over-year asset growth of 29% with $547 million in total assets as of December 31, 2021 compared to $425 million as of December 31, 2020. Total deposits as of December 31, 2021 were $503 million as compared to $392 million on December 31, 2020, an increase of 28%. 
"We're entering our 25th year in business with a remarkable tailwind," said Bill Penney, president and CEO of Marine Bank & Trust. "Although the pandemic continued to present us with challenges in 2021, it also gave us opportunities to adapt, problem-solve and be an even greater resource for residents and businesses in need of financial solutions."
In 2021, Marine Bank assisted 458 small businesses secure $33 million during Round 2 of the Small Business Administration (SBA) Paycheck Protection Program (PPP) enabling them to keep their doors open and an estimated 3,750 employees on the payroll.
In addition, Marine Bank funded $109 million in commercial loans which enabled 232 businesses to grow and create new jobs and $115 million in residential home loans which assisted 319 families purchase or refinance their homes.
"To better serve our customers, we have doubled the size of our mortgage lending and commercial lending teams, opened a commercial and residential loan office in Port St. Lucie, and launched the Marine Bank Mobile Mortgage app," continued Penney. "Those additions coupled with our exceptional service, custom solutions and quick decisions proved to be a winning combination."
In 2021, the company also added notable retired community banker Hal Roberts and Dan Richey, President and CEO of Riverfront Packing Company to its board of directors. 
"We couldn't have asked for two better individuals to add to our board," said Penney. "No one understands the important role community banks play in the growth and success of a community better than Hal.  And, Dan is a notable business leader with strong ties to the community.  They both share our belief that people are a business's greatest asset, our passion to be an industry leader, and our desire to form lasting relationships."