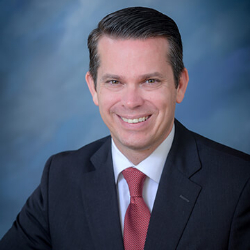 October 10, 2018
Marine Bank & Trust has announced that it has hired Shaun Williams as Senior Vice President/Chief Commercial Lending Officer.  With 20 years of experience as a Treasure Coast commercial lending professional, Williams is responsible for generating and servicing commercial and commercial real estate loans and building customer relationships.
"As an independent community bank, it is Marine Bank's responsibility to be a dependable resource for our local business owners," said Bill Penney, President and CEO of Marine Bank. "Shaun has spent the past 20 years addressing the banking needs of businesses along the Treasure Coast. His unique insight and network of contacts will enable Marine Bank to introduce our exceptional service to a new audience of business owners."
Marine Bank provides financial resources to small businesses through commercial real estate loans, construction loans, commercial lines of credit, SBA and USDA loans. Since January of 2017, the Bank has financed commercial loans totaling nearly $30 million.