August 3, 2020
Dear Fellow Shareholders:
In 1976, The Grateful Dead said it best: "What a long strange trip it's been." Since March of this year it has indeed been strange. However, in spite of the pandemic, I am pleased to announce that Marine Bancorp of Florida has continued to demonstrate solid performance for the first half of 2020.
2020 First Half Summary:
| | | | |
| --- | --- | --- | --- |
| | June 2020 | June 2019 | % change |
| Net Income | $1,240,564 | $744,775 | 67% |
| Total Assets | $376 million | $273 million | 38% |
|   | | | |
| Total Loans | $322 million | $223 million | 44% |
| Total Deposits | $346 million | $247 million | 40% |
| Total Checking + Now | $149 million | $107 million | 39% |
|   | | | |
| Marine Bancorp Book Value Per Common Share | $17.73 | $16.00 | 11% |
Net income after tax for the first six months of 2020 was $1,240,564 compared to $744,775 in the first half of 2019. This is an earnings improvement of $495,789 or 67%. The earnings growth is due to the continued execution of our strategic initiatives to profitably grow the Bank and your investment. The success of these initiatives accelerated during the pandemic as customers sought refuge with community banks, and specifically Marine Bank, when they were disappointed with the poor service level offered by their bigger, more nationally focused, banks.
The Company has experienced asset growth year over year with $376 million in total assets as of June 30, 2020, compared to $273 million as of June 30, 2019, an increase of $103 million or 38%. Loans outstanding were $322 million as of June 30, 2020, compared to $223 million as of June 30, 2019, an increase of $99 million or 44%. Subtracting the $62 million of temporary PPP loans, the loan portfolio grew $37 million over the same time-period, or 17%. This is very important since loans are our primary earning asset and revenue source.
Total deposits as of June 30, 2020 were $346 million as compared to $247 million on June 30, 2019, an increase of $99 million or 40%.  Most significantly, our non-interest and low interest-bearing checking accounts, highly valued as a no and low-cost loan funding source, grew to $149 million as of June 30, 2020 from $107 million, a $42 million increase or 39%! This continued growth in these core deposits are a direct result of our Team's focus on targeting high value prospects and convincing them of the benefits of banking local at Marine, with all the technological advantages of a big bank plus the personalized service for which we are well known.
In our financial world we talk about growth and profits in numbers and percentage gains.  We must never forget that behind all these numbers are real people with real businesses that have entrusted Marine with their banking and financial life. We strive every day to meet and exceed their expectations so they will continue to trust us, bank with us and refer their family and friends to us. I am proud of how our team of talented and dedicated bankers continually rise to this challenge.
As a result of the financial success reported above, the common stock book value of your company increased to $17.73 per share as of June 30, 2020, from to $16.00 on June 30, 2019, an increase of $1.73 per share in June 2018, or 11%.
Due to our continued high performance, Marine Bank has maintained its 5-Star Superior rating from Bauer Financial, the premier bank-rating organization that reports on and analyzes the performance of banks.
I have previously reported on the extensive safety protocols we are following, including requiring all who enter the Bank to wear a mask. If you had told me in January of this year that we would require everyone who enters to wear a mask I would not have believed it, and now it has become the rule.
The current numbers on our Paycheck Protection Program (PPP) loans total 790 loans for $62 million. Our average loan size was $78,614 with 528 of these loans less than $50,000. I state these in numbers, but they are real business owners using the funds to pay their employees (some 6,500-real people) for eight weeks. They trusted us with this very important task, and we came through for them. This has been an incredibly proud accomplishment for our team of bankers. These customers and prospects have showed their trust in us by expanding their banking relationships with Marine as evidenced by the growth in our loans and deposits.   We are waiting for the SBA (Small Business Administration) instructions for loan forgiveness so we can work with our borrowers to facilitate the process for them and earn our origination fees that will exceed $2 million.
We are maintaining our focus on credit quality due to the on-going pandemic-caused economic distress.  We entered the pandemic with the best credit quality in the Bank's history and were able to offer four-month payment deferrals to all borrowers to help them cope with the government ordered shutdown of the economy. Eighty customers representing $39.6 million in loans (15% of total non-PPP loans) have taken us up on this offer. Thus far, we have not observed any significant credit portfolio concerns but in anticipation of possible losses, we have continued to add more than normal funds to the Allowance for Loan Losses (this is a direct charge against earnings). Additionally, our credit team has been identifying possible borrowers with higher than normal default potential and they have begun to reach out to them to determine their status. We will know more in August as the previously offered loan payment deferrals begin to expire.
The Bank has very low exposure to the hardest hit restaurant, travel and hospitality industries but we do not yet know how the trickle down of economic stress will affect our good customers. Our plan is to maintain contact with our customers, help where warranted and take further action when necessary.
We are pleased to announce Warren Capital Management is our new strategic partner for wealth management. Warren Capital Management is led by Sue Tompkins, a local and highly talented investment advisor. Please contact us at (772) 231-8222 to set up an appointment to review your portfolio and investment goals.
A reminder, your Marine Bancorp of Florida stock is listed on the OTC exchange under the ticker symbol of MBOF. Mike Acampora of DA Davidson is our market maker. If you have an interest in buying or selling Marine stock, please contact Mike at 904-456-6153 or macampora@dadco.com.
Marine Bank's Facebook and LinkedIn pages continue to provide value-added banking and financial related information.   Your "likes" and "shares" are important, and it will help spread the word regarding news about the Bank. Please check these sites and follow us!
Remember to refer your friends, family members, business associates or someone you think will be a good customer of your Bank. Over the last three years, more than 99% of the respondents to our service survey said they would recommend Marine Bank to others, so you can be assured we will exceed their expectations. Enclosed is a shareholder referral form. You can become an active participant in the value enhancement of your investment!
On a personal note, when I joined Marine in 2004, we were a $71 million bank with a loss of $84 thousand for the year. It is gratifying, and frankly amazing, to realize that we grew more in these last twelve months than the entire size of Marine when I started!  Thank you for your support of Marine Bank and our Team during the pandemic. With our continued positive performance and growth trends, you can feel confident that we will continue to grow the company and increase the value of your investment. 
Sincerely yours,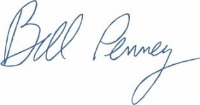 William J. Penney
President, CEO & Chairman