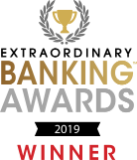 In 2018 and 2019, Marine Bank & Trust was named among the top extraordinary banks in the United States by The Institute for Extraordinary Banking.™ Marine Bank was recognized with the Institute's Banky™ Award for its commitment to strong community banking. This recognition is given to top community banks across the country to help people find the best banks in their communities.

Bauer Financial, the nation's premier bank rating firm, awarded Marine Bank & Trust its coveted 5-star Superior rating based on several factors including profitability/loss trend, level of delinquent loans and repossessed assets, the market versus book value of the investment portfolio, the community reinvestment rating (CRA), liquidity and more.


Marine Bank & Trust was recognized as one of Indian River County's "2016 Best Places to Work" by the CareerSource Research Coast based on 30 criteria including employee turnover, growth, employee development, internal promotions, benefits, and retirement plans.The Bank also won the award in 2010, 2011 and 2013.